From Argentina to the USA
by:
TOPICS DISCUSSED:
Architecture
I've worked in architecture all of my adult life; near Buenos Aires until I was 39-years-old, then in California after my family and I moved to the U.S. in 1991.
Architecture in Argentina
While in high school, I was interested in car styling, but since there were no car design programs in Argentina I enrolled in an architecture program in the University of Belgrano. After two years, I transferred to the University of Buenos Aires and completed a six-year program —the equivalent of a Master's Degree in the U.S.  In Argentina, you are an architect and can start practicing as soon as you've completed a program, without going through the lengthy licensing process required in the U.S. All you need to do is register in the counties in which you are going to work.
Practicing as an architect in Argentina is quite different than in the States. In residential projects the architect also acts as the general contractor representing the client and is responsible for both the design and the Construction Administration, coordinating everything from buying materials and scheduling construction to dealing with the subcontractors. It's a more collaborative process that's similar to Design-Build in the states. As architects, we were the "maestros" who controlled the whole process, while learning directly from the various craftsmen/ subcontractors.
Today, Argentinians are much better informed and more open to contemporary design, but in those days architectural styles were quite traditional due to the cultural atmosphere. I primarily built multi- and single-family residential projects, typically using masonry, concrete, and in some cases wooden roof structures. Houses took two to three years to build, during which time the owner often makes changes on the fly. We were constantly making changes in the drawings and in the field, which might explain why the drawings were rarely 100% complete. In residential projects the legal side was very relaxed, with little  paperwork or contracts.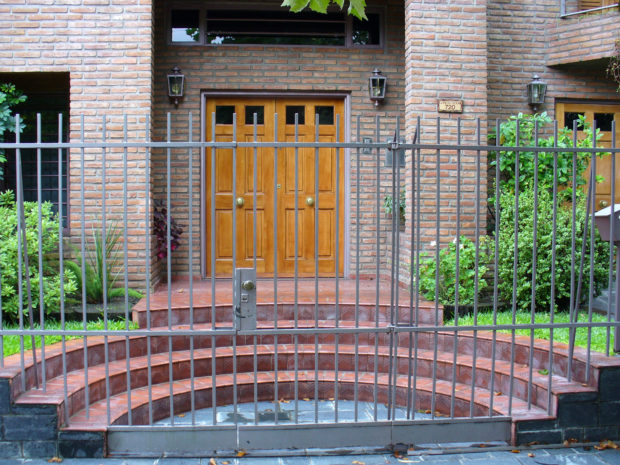 I worked for an Argentinian firm for 10 years before leaving to work on my own for five years. During those years on my own, I designed and built around 60 multifamily residential, single-family homes, some commercial and small retail.  But Argentina's volatile economy was taking a toll on my practice. Around 1987 the economy crashed and work stopped — nobody wanted to build until the economy picked up, and we didn't know how long that would take. I think all the architects were in therapy at that time! The future in Argentina didn't look bright, either for architecture — the only profession I knew — or in terms of education and healthcare for my two young children,  so in 1989 I applied for a visa to the U.S. In 1991 we came to the Bay Area and started working for Swatt Architects. (Yes, we were welcomed with the Oakland Hills fire and were evacuated too!)
Architecture in the United States
When I moved to the U.S. in 1991, I had to quickly learn how to build with new materials and technology since in Argentina we used only wood for the roof structure in particular projects. With 15 years of architecture experience in Argentina, with a lot of exposure to design and construction, I knew that I could learn very quickly. I spent eight months working primarily as a draftsman until others recognized my capabilities and trusted me with other tasks. I always said yes when offered more responsibility.
The biggest shock was finding that architects in the U.S. are not in control of the process in the way they are in Argentina (although things might have changed there in the 22 years I've been gone). Here, construction documents are complete and the client is the one to authorize changes. In general, reflecting on architecture in the States, I find that it takes too long to acquire responsibilities and to have the opportunity to apply your own ideas.
On the positive side, there are more opportunities here. In Argentina there aren't as many firms to work for, and they don't pay well because it is a completely different market. Here you can work on bigger and different types of projects, not just residential. In the U.S., I became involved in projects that I would never have had the chance to work on in Argentina, from half-million-dollar houses when I first arrived to several-million-dollar healthcare projects.
After working for Swatt Architects for three years and Tsang Architecture for almost five years, I joined ELS in 1998, where I am now a Senior Associate. At ELS, I was the Project Manager for projects with the Berkeley Repertory Theatre and San José's California Theatre.  I've also worked on the various phases of the Ward Village Shops and the Auahi Shops in Honolulu, scheduled to be completed by the end of 2013. At ELS, design is more open and collaborative —not concentrated among a few people. I still get excited at the design opportunities and get satisfaction from taking a design from paper to the end of construction.
Impact on My Family
Of course, there have been positives and negatives to our family's move to the States.  The family life (with grandparents and cousins) that we were so fond of in Argentina has been replaced with close friendships with people from different cultures. Here, my children have design-oriented professions that would have been difficult to pursue in Argentina. One is a concept designer for a video game company while the other is an industrial design student.
Twenty one years ago, my wife was not convinced about leaving Argentina. But as we stood in the Paramount Theatre in Oakland in 2012, waiting with almost 1,000 other new citizens for the Oath Ceremony to start, she told me, yes, we made the right move. My wife and I became citizens last October just in time to vote in the 2012 presidential election.
---
RELATED STORIES
---
AUTHORS