Austin Energy Headquarters
Austin, TX | retail/mixed use
The new Austin Energy Headquarters has been designed to provide the ultimate in flexibility, representing the office of the future.
This project is designed to hit three metrics: LEED Platinum, Austin Energy Green Building's Five Star rating, and WELL Building Certifications. The four-story, 275,000-sf Austin Energy Headquarters will accommodate 900-1,000 employees. The design incorporates a holistic approach to user wellness throughout the building by maximizing connections to the outdoor environment, daylight, circulation and social interaction. A dramatic "social stair" makes it easier for employees from different departments to interact throughout the workday by emphasizing internal connections between floors and departments. The courtyard was designed for activity with a variety of scaled spaces to attract gatherings of all sizes and needs. A shaded terrace at the second level opens to the street capturing wind patterns to cool the courtyard during hot summer months. Facing Mueller Boulevard, a monumental solar canopy provides shade for the building, reducing heat gain while generating renewable energy and telling the story of Austin Energy's commitment to providing 65% of the city's power need through sustainable sources.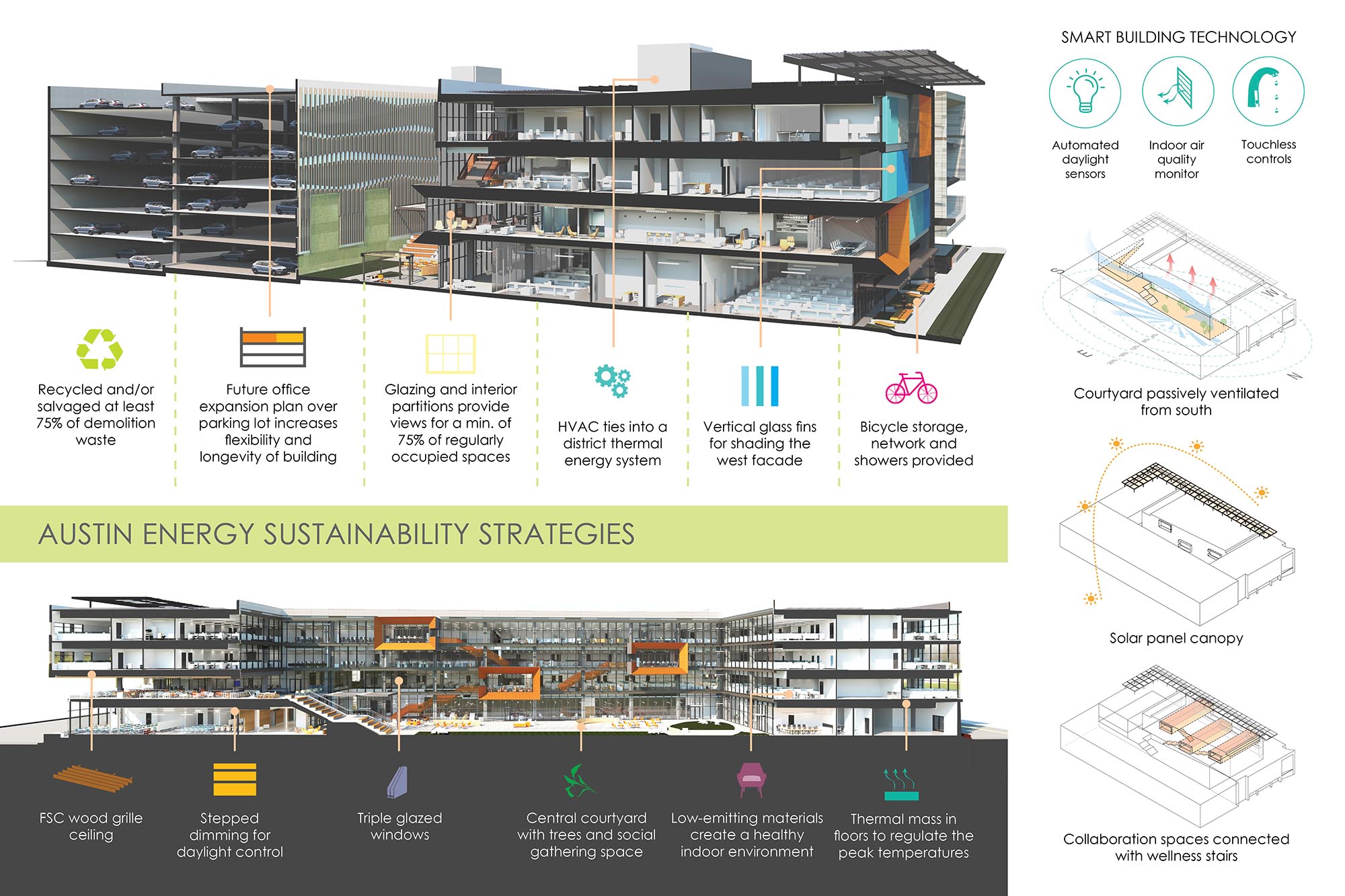 The project is located in the Mueller Town Center on the former Robert Mueller Municipal Airport, a 700-acre mixed-use new urbanist community that is the largest LEED for Neighborhood Development (LEED-ND) Gold certified neighborhood in the world. Employees of Austin Energy will be within a five minute walk of several parks and the  Aldrich Street District, master planned by ELS, with its local shops, restaurants, Thinkery Children's Museum and Alamo Draft House Cinema. The district also contains a variety of living options from apartments to townhomes and single family residences.
ELS is the project Design Architect, with Page Architects serving as Architect of Record and interior designer. Catellus Development Corporation is the master developer of Mueller and the development manager for the Austin Energy project.
Courtyard photo by Ashley Scroggs/Coleman & Associates.
Project Stats
Client

Catellus

Size

275,000 square feet
TEAM MEMBERS